NAVEL vs VALENCIA ORANGE
Which one should you buy?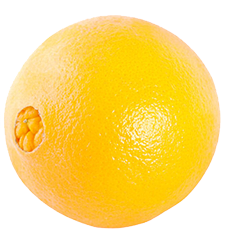 Navel or Valencia orange. You frequently see both types of fruit sold at fruit stalls. Which taste sweeter? Which one has better texture? They look so similar, even the fruit seller sometimes wrongly identifies them. How can you tell which from which?
Navel is harvested during the winter months. Navel oranges generally has a smoother and thinner skin. Most of them will have a small hole that looks like it has a baby orange inside. Navels are seedless and less fibrous, making them ideal for eating. However, orange juice made from Navel will taste bitter within minutes because its flesh contains an enzyme called Limonin that will turn bitter when exposed to the air.
Valencia is the summer orange. Valencia oranges generally will have a thicker skin and some seeds in them. Their flesh will also contain more fiber. Not as tasty to eat. However Valencia oranges make the best tasting orange juice. Orange juice made from Valencia oranges will be sweeter, have more volume and will not become bitter when exposed to air.
TOP ORANGE PRODUCING COUNTRIES